Welcome to
NABU - Support, Development and Science Foundation
The mission of our Foundation is to create a friendly space for children and seniors. We help people affected by poverty and at risk of social exclusion. We are active in the field of education and upbringing – we pay particular attention to the promotion of English language and robotics among children and young people. We make every effort to organise time for our children in an attractive way.
IF YOU LIKE HELPING PEOPLE
we invite you to cooperate with us, join us
Our organization joined the program
Pajacyk: psychosocial help!
  So far, we have known the "Pajacyk"" program from feeding starving children. From the beginning of March 2021, PAH expanded its activities to include psychological support for young people. Since May we have been operating together with Pajacyk! Our common goal is to provide children with adequate support in these difficult times.
   Joining the program gives us the opportunity to reach out to children and youth in our region even wider! As part of the program, we will be able to: provide psychological assistance (group and individual) for people with refugee experience, organize English, Polish, robotics and programming classes for them, as well as integration meetings. Participation in the program also allows us to develop the creativity of children and youth through art classes and support their sports interests through physical activities.
  Who will be covered by our help? We, as well as other organizations operating as part of Pajacyk: psychosocial assistance, conducted a diagnosis of needs in our regions. Among the beneficiaries covered by the program there will be refugees from Ukraine, mainly children and youth with their families, who came to the Jasło poviat in connection with the armed conflict taking place in their homeland. Integration meetings will also be attended by children and youth of Polish descent for social integration, which will help everyone to acclimate to the new environment and situation.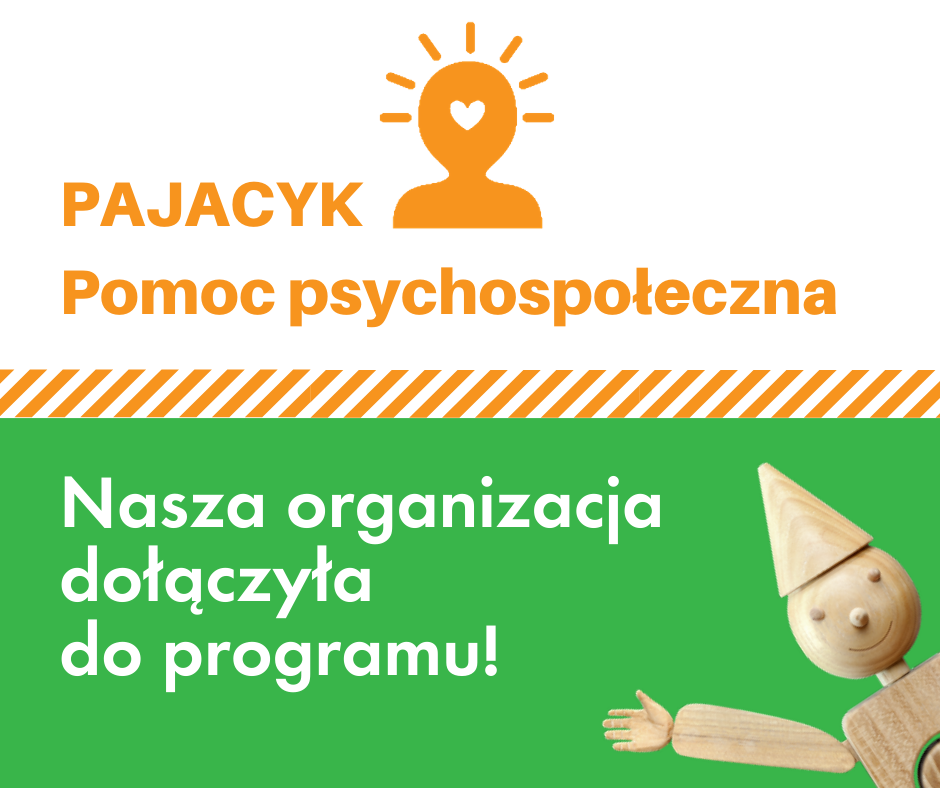 We are pleased to announce the start of cooperation
with the PZU Foundation!
The project is funded by the PZU Foundation, thanks to which we will be able to bring help and joy even further and even louder!
Pomoc to Moc – społeczna odpowiedzialność PZU – Thank you! Help is power!
Follow us and wait for details. Stay tuned!
#FundacjaPZU #bliskoludzi #edukacja #pomoc #pomocspołeczna #integracja
We are pleased to inform you about the start of cooperation
with the Education for Democracy Foundation, with the support
of the Polish-American Freedom Foundation.
Project co-financed by the Polish-American Freedom Foundation as part of the We Support Ukraine program, implemented by the Education for Democracy Foundation
As part of the "Helping Ukraine" project, we organize various activities for our charges. Learning Polish, English, group classes and much, much more! Follow us and stay up to date!
My daughter loves the English Club classes and can't wait for the next meeting. It is hard to believe that she will love learning English and eagerly seeks contact with the language herself. I recommend it to everyone who is not indifferent to their child's future.

My son is still a child who puts play above learning. The amazing thing is that the classes are conducted in a very interesting way and he forgets that he is learning. What's more, 90 minutes is too short for him and he would like the lessons to last even longer.
Conversation, grammar and fun all in one. I'm a teacher too and I wonder why English classes don't look the same at school. My daughter has been learning English for years, but she's only now starting to speak a foreign language since she joined English Club.
English lessons with Ms Kasia are not an obligation but a pleasure for children. The form of classes makes them learn very quickly and teaches them how to use English. I RECOMMEND!

I sincerely recommend it! Super approach to children, learning English comes easily and pleasantly to the head 🙂 . My daughter loves classes with Ms Kasia.